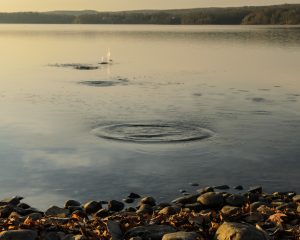 According to Merriam-Webster's dictionary, peruse means "to examine or consider with attention and in detail." And dictionary.com says peruse means "to read through with thoroughness or care."
Have you thought about what a difference it would make to your peace and joy if you actually perused life rather than skimming through it?
One day, I asked myself this question. Stressed and hurried, I felt disconnected from myself and life. Why was I constantly choosing to experience life as if I were a stone tossed out across a lake, touching down then skipping above the water, over and over? The moments when I was above the water, or the present, far outweighed the times I was immersed in whatever I was doing.
When I consciously slowed down, I became introspective. I asked myself, "Regina, if you are not devoted to patiently immersing yourself fully in the here and now, how is it possible for you to actually enjoy life? Where is the satisfaction in allowing your thoughts to fantasize about a future event, rather than staying present to listen closely to a friend? What joy do you receive from letting your thoughts return you to a past situation, instead of patiently remaining present to thoroughly read and comprehend an e-mail from a relative? Why waste time wanting a traffic jam to be different?"
The past is no longer a real moment in time that we can influence or change. The past only holds memories of our life as it was. Returning to fond memories brings us great joy, but the past officially ended the instant we stepped from then into now.
We cannot go back in time to change the choices we made. Reflecting on the past and our previous choices is the way we learn. Allowing our mind to dwell on what we think should have, would have, or could have been takes our attention away from the present. Only in the present is it possible to apply what we learned from the past and create a better outcome for the moment that is now.
The same is true of the future. Regardless of how badly we may want the future to come, we cannot rush ahead and live in a time that does not yet exist. The future is not real; it is only the next moment's present, over and over, infinitely.
Permitting our mind to race ahead and attach itself to worries of what may happen disconnects us from the present, the only time possible to purposefully get ready for a future event. Living a fulfilled life requires us to patiently surrender to the truth: Life is only real now.
There are 1,440 minutes in each day. Each minute is dear. Once it is spent, there is no way to receive a refund. We cannot purchase more. We cannot press pause on life to resume it at a more convenient time. Time is not a resource to be wasted, killed, or allowed to fly away from us without our being aware of where it went.
Each moment of life is a gift to be cherished. Slow down. Take time to smell all the roses you can in life. Take time to watch the sun rise or set. Take time to patiently listen to others to understand them. The peace and happiness you want is found by living at a pace where you take notice of and appreciate that life is actually made up of the smallest of details.