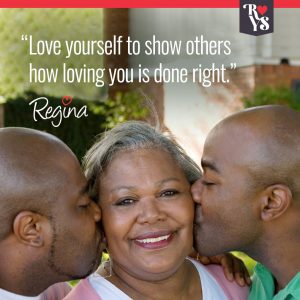 I grew up hearing I had to love other people first, or Jesus, or God. I was raised to believe it is selfish to put my physical, emotional and spiritual needs first.  I had to sacrifice my dreams, wants, and desires for those of others, especially those of the men in my life.  If I stood up for what I wanted or I refused to follow along with what other people wanted me to do and be, I was being self-centered.
It took many years but I finally figured out each of those "beliefs" is a controlling lie. My experience is women struggle with the societal and religious expectation we have to love other people by putting them first, or we're being selfish.  The continued misogyny of our global society (devaluing of the feminine vs. valuing the masculine) originated with ancient religious texts and was written in times when women had no power. The belief of gender inequality continues today in part to keep women controlled by the idea we must take care of everyone else before ourselves.
A devaluing of ourselves in favor of others causes us to lose ourselves in relationship, to believe our love is strong enough to change other people, and results in our having a hard time setting boundaries. In general, women have been conditioned to love others before we love ourselves. But the truth is whether we or women or men – we cannot give to others what we don't first give to ourselves. To have fulfilling relationships, to not lose ourselves, to set boundaries, we must have an appreciation for what is involved in loving others, which we can only develop through the experience of loving ourselves first.
Love is caring and affection displayed through positive action. You know you are loved by how positively others treat you. You know you love yourself by how well you treat yourself. Unless you focus on your needs, desires, wants, body, time, energy, attention, values, beliefs, you end up losing yourself in relationship. A "me last" approach creates resentment and feelings of being unfulfilled in relationship. Plus, attempting to love others before we love ourselves perpetuates the false idea we can give anything to anyone we do not first give to ourselves.
Finding BALANCE is the key to loving yourself first because what you want to do for yourself cannot always come before your children's and family's needs. Loving yourself first means you make time daily to take care of yourself so you do not run yourself ragged and become resentful because you've lost yourself (your needs, desires, values) in relationship.
No one is capable of being a better friend, confidant and advisor to you than you. It is empowering to realize you can treat yourself as you want to be treated, support yourself as you want to be supported, and love yourself as you want to be loved.
Regard yourself with the utmost compassion, forgiveness, and respect. Look within to change feelings of helplessness and hopelessness into self-reliance and optimism. Focus on forgiving yourself and other people to repair the holes within your heart. Become familiar with what you value in yourself, in others and in life. Concentrate on being comfortable and content alone before seeking someone to share your life with. Stand up and cheer for yourself. Depend on yourself to create the life you want by being your own biggest fan.
Download my free "101 Ways to Love Yourself" guide here: