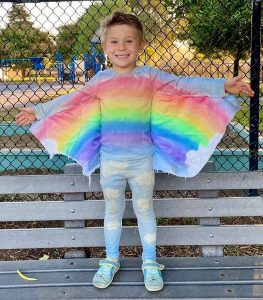 I was born different. Weren't we all? Some of us have green eyes, some brown. Some are light skinned, some dark. We have red hair, brown hair, kinky hair, curly hair.
Human beings are a beautiful weave of colors and cultures, different branches of the same family tree. We are unique by design, just as no two snowflakes or fingerprints are the same. And yet, we still have a difficult time accepting, honoring, and nurturing our differences.
Around age four or five, I knew I was "gay." I don't know how I knew, when I didn't even understand what that meant, but I did. It was not a choice I made, but an understanding deep within my heart that growing up and finding a man to marry was just not for me. Yet from the first time I stepped into a church, I was taught to believe I was going to hell. What a lonely, depressing, and negative thing to ask someone to believe — especially a child.
Going against what was considered the norm was not some act of early-childhood rebellion on my part. There was enough schoolyard bullying, screwed-up family life, and feelings of unworthiness without adding another reason for me to feel detested. No, I did not intentionally choose to stick out in a world where I was surrounded by people who believed their God hated me for being gay, which enabled them to feel justified to hate me too.
The judgment I encountered based on one aspect of who I am didn't make sense in my heart of hearts. Even as a young child I questioned how, when the basic message of all faith is to "treat others as you want to be treated," could I not be worthy? How was it possible that spirituality was intended to be an exclusive, criteria-based membership, a contest of me against other people, or a practice based on fearing some unseen, angry, condemnatory presence? Wasn't spirituality the individual quest to connect with the spark of loving kindness within my heart and behave motivated by that spark? Didn't that mean supporting others as I wanted to be supported, loving as I wanted to be loved, accepting others as I wanted to be accepted, and being the best person possible?
No, I was not straight. But my actions were good-hearted. I once took a dying chrysanthemum from my aunt's porch and replanted it next to her driveway, where it thrived for many years. Another time, while on vacation with my family, rather than poke around a roadside trinket shop, I spent time giving water to a donkey tied up in the hot sun.
No, I was not a girly girl waiting to meet Prince Charming. But as a little girl I asked my mom to buy shoes for a shoeless classmate, and I asked my dad for baseball equipment for the children at the orphanage.
No, I was not "right" in the eyes of those who find it easy to judge and hate difference in the name of their God. But I loved animals, flowers, the outdoors, and sports. I fantacized about being a superhero, defending the planet from evil villains bent on world domination. As a superhero, I would carry an extra sandwich to school for a friend who didn't bring a lunch, rescue moths from spider webs, and dry off little birds that had been caught in torrential thunderstorms.
All I ever wanted was to be accepted for just being me. But no matter how well-behaved, or kind, or friendly I was, I remained doomed for not falling in line and adopting the fearful, judgmental beliefs that were being shoved on me. Attempting to accept the limited, disparaging idea that I needed to be straight caused me such anxiety, suffering, and feelings of unworthiness and shame that I lived in constant fear. It felt as if I were slowly being crushed beneath the oppressive weight of powerlessness and hopelessness. I thought life was too painful to continue, but I did not give up. Instead, I questioned why there was such hatred of my being gay. It was just not right, or loving, or Godlike.
To survive, I learned that challenging my beliefs was imperative. The people who teach us what to believe, answer our questions, and mirror society's behaviors are passing along what they've been exposed to. Love, support, and acceptance are learned, as are injustice, hate, and bigotry. So just because we've been taught to believe something doesn't necessarily make it true. Likewise, just because we're taught not to believe something doesn't necessarily make it false. One of our most important spiritual responsibilities is to courageously question beliefs that don't align with the positive, loving, inclusive behaviors of our heart.
Only through assessment did I come to realize that being gay is not a punishment from a divine source. Doctors, psychologists, and educators have concluded that sexual orientation is not a choice. Although there is no simple, single cause, research suggests that a combination of genetic, hormonal, and environmental influences determines it.
As far as religious references, I found that only six or seven of the one million–plus verses in the Bible address same-sex relationships. None of those verses refers to homosexual orientation as it is understood today. Modern scholars advise us that the biblical verses regarding same-sex relationships, as well as others throughout ancient religious texts, need to be understood within the context of the ancient societies that produced them. Science now offers tangible proof of why those antiquated beliefs no longer apply to our modern times.
Today I understand that growing up, I didn't stick out at all. Born an average-looking, conventional, learning-challenged, jeans-wearing, gay tomboy, I was only uncomfortable being myself, as billions of us are. I, too, was brainwashed into believing I was not good enough unless I lived up to other people's ideals and values.
The truth is, I did try to change, to be "normal." And I suffered more. Regardless of how hard I tried to fit the mold other people had for me, I failed. Until one day I realized I'm not meant to live another person's life. I'm only meant to live mine. That was the day I became free to simply be me.
The bottom line is that even if being gay were my choice, we must question how responsible it is to use thousand-year-old texts to rationalize the condemnation of those whose sexuality, religion, ethnicity, political beliefs, or socioeconomic status are different from our own.
If we're going to create lives of love, compassion, and purpose, we have the charge to question what we believe. It is only by asking questions of ourselves and the world that we can improve from generation to generation.
Imagine life without the vast medical advancements of the past couple hundred years. Research and evaluation are how theories and formulas are adapted, adjusted, and made more reliable and applicable or wisely abandoned.
At first we thought the atom was the smallest particle of matter. Then we discovered even smaller particles: electrons, protons, and neutrons. And with particle accelerators, we discovered smaller things yet, called quarks.
Until the mid-twentieth century, we had no idea of the vastness of outer space. Then we discovered that the Earth resides in a galaxy among billions of others.
We are part of a continuous chain of civilizations asking questions and wanting answers. We come to conclusions and pass them on to the next generation. Advancing the complexity of the questions we ask, and making positive adjustments based on our findings, are part of the natural process of change.
Everything is designed to change and progress — the seasons, our planet, nature; scientific, technological, and cosmological discoveries; even ourselves. This means our spiritual beliefs, texts, and practices are meant to change and advance as well. Spiritual advancement ensures that we bring accountability, compassion, and principled excellence to the table when addressing challenges and opportunities.
No matter what is written in ancient texts, we can change what is deemed spiritually responsible as our world changes. Pushing against the status quo is exactly what each enlightened messenger has done and continues to do. Questioning beliefs, including those that hold homosexuality as sinful, is spiritually prudent, particularly since science now provides evidence for biological and environmental causes.
Emerging on the other side of such a painful journey, I learned that the divine power I believe in manifests itself as love. Love does not judge others; not by sexual orientation, skin color, size, or any of the countless ways we are different.
What matters is how responsibly we behave as people of good, compassionate, and kind character. We honor, respect, and nurture individuality. We help make the world a better place by our being alive. We spread acceptance by treating others as we want to be treated. That is something God is very okay with, whether we are gay or not.