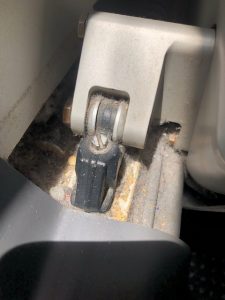 After a very hard five weeks in Little Rock taking care of mom I was exhausted. I boarded a flight in Little Rock bound for Dallas to catch a flight back home to Los Angeles. I was really disgusted by the dirtiness of the airplane from Little Rock to Dallas. And decided to write a letter to complain, nicely. I wrote directly to the President and CEO of American Airlines. Don't know if he will get it but that did not stop me from writing to him. Because it is okay for us to complain, nicely.
July 16, 2021
Dear Mr. Parker,
Frequently in organizations, especially one as large as American Airlines, customer comments, particularly critical ones, do not reach the top. Which is why I am writing to you personally to share an experience I had recently.
I have been a frequent flyer member for several years. Overall, my experience with American Airlines has been very good. Until flight AA 3642 from Little Rock, Arkansas, to Dallas on Tuesday, July 13.
The enclosed photo is the seat mechanism in front of me. I have never encountered this level of neglect and filth on any American Airlines flight. I am certain cuts to staff during Covid-19 continue to impact many aspects of AA's operations. Yet I trust you, as CEO, care about daily details such as the cleanliness of all airplanes. In the mind of this consumer, the job each AA employee does is a reflection of all who work for American.
Thank you for your time and attention. I assure you this one experience has not caused me to seek a new favorite airline. But it has motivated me to communicate my displeasure, because if I were in your position, I would want to know.